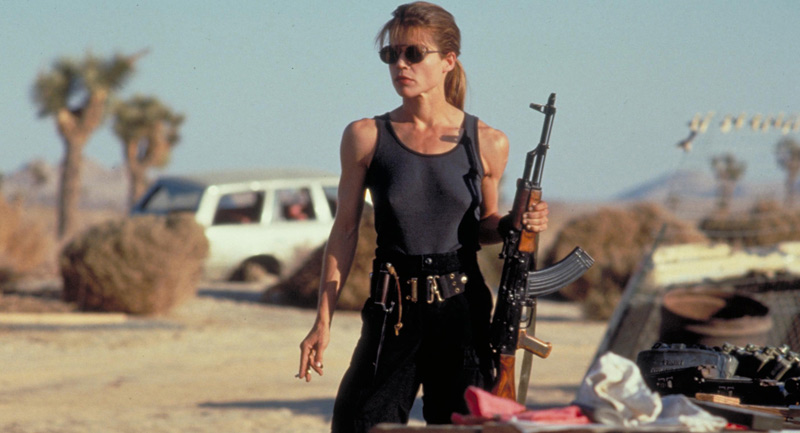 Cinema Classics Seminar:
Terminator 2: Judgment Day
Come With Me If You Want To Live
Wednesday, August 28, 6:30 pm to 10:00 pm  
Instructor: Paul Wright, Ph.D., Department of English, Cabrini University

James Cameron's Terminator 2: Judgment Day (1991) is the rare movie sequel that rivals, if not surpasses, the original film. It shifts ground from the improvised, insurgent aesthetic of its predecessor to create a mainstream box-office entertainment that is both more crowd pleasing and more unsettlingly dystopian in its depiction of a world blithely ignoring its own self-imposed technological doom.
T2 raises the stakes thematically, as well. The first film depicts Sarah Connor (Linda Hamilton) as a vulnerable, reactive young woman who is largely a passenger on her own journey to survival, while the sequel presents an authoritative, physically imposing, and unapologetically violent Connor cut from the same cloth as Sigourney Weaver's Ellen Ripley, who defined the action heroine in Cameron's 1986 Aliens. Connor takes the lead in protecting her son, John, devises a plan to stave off Judgment Day, and, despite being wary of Arnold Schwarzenegger's T-800, chooses to at first tolerate, and later encourage, the burgeoning father-son relationship between the cyborg and John. This family unit lets Cameron revisit the theme of parenthood—present in four of his films—and allows for new dimensions of humor and pathos in the sequel, as well as a reimagining of the cyborg archetype.
Join us to learn more about the only science-fiction/action movie featuring two cyborgs to ever be referred to—by Roger Ebert, no less—as "a human drama—and a human comedy, too."
Are you interested in "just" seeing this movie? That's easy! Just come to the box office or buy a ticket online here.