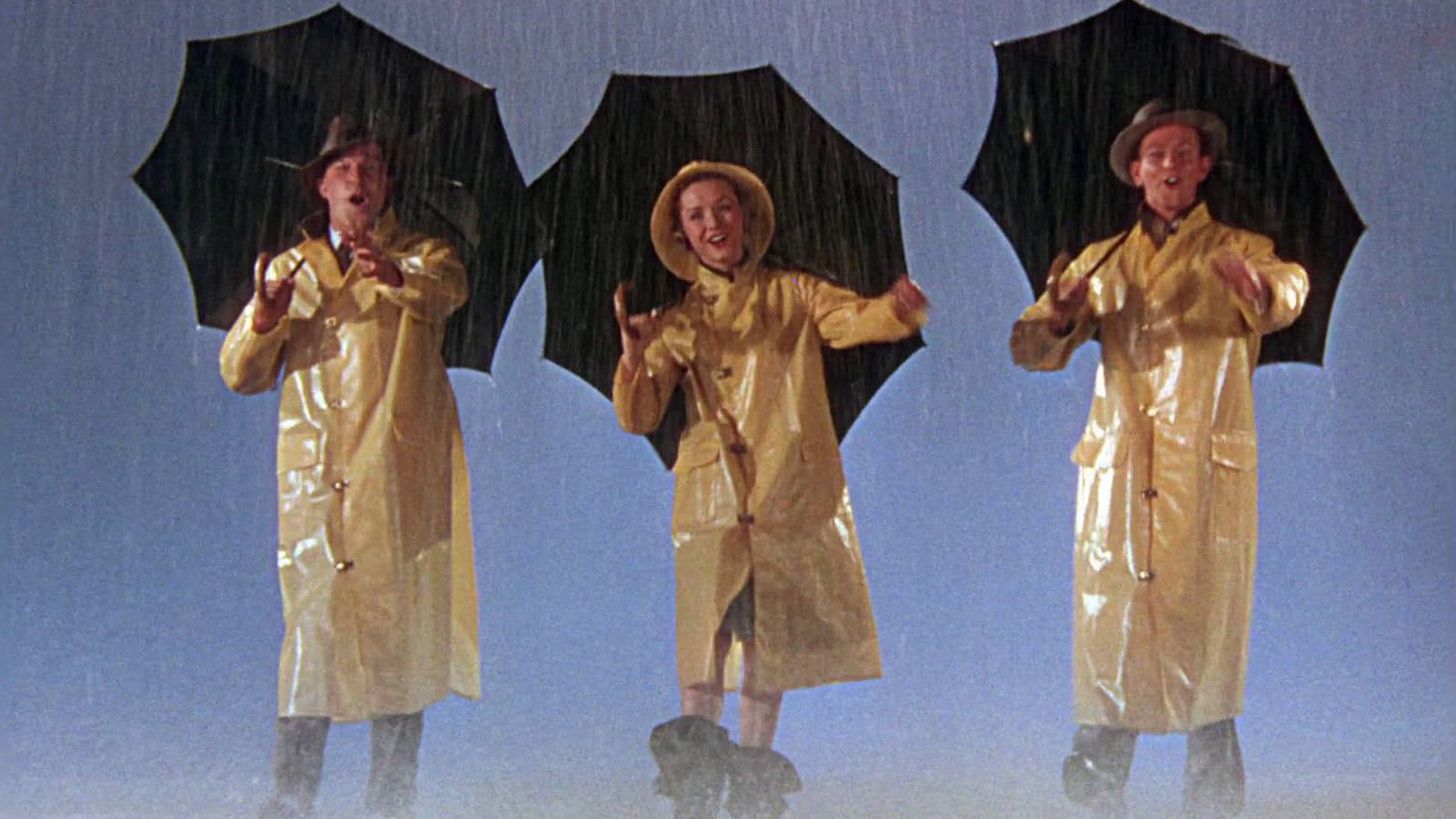 Cinema Classics Seminar:
Singin' in the Rain
Wednesday, July 21, 2021, 6:30 pm to 9:30 pm
ON SITE: $25 for members, $35 for non-members
REMOTE CLASSROOM: $15 for members, $20 for non-members  
Instructor: Jennifer Fleeger, Ph.D., Media and Communication Studies, Ursinus College

A cheerful, lavish Technicolor love story about the coming of sound, this classic MGM film deserves its status at the top of the AFI's Greatest Movie Musicals list. But what's the story behind Hollywood's best-loved backstory? What prompted the famed screenwriting team of Adolph Green and Betty Comden to create a film full of silent-cinema references and whimsical allusions to popular culture in the 1920s? What real people and events inspired the singing in Singin'?
This seminar offers a brief history of Hollywood musical history as told through the lens of this film. We will discuss how the stage musical sub-genre evolved from the period depicted in the film to the time of Singin' itself, and how the songs, co-written by producer Arthur Freed and Nacio Herb Brown decades earlier, amplify particular aspects of that progression. We will also talk about Hollywood's emerging preference for the "dream ballet"; like An American in Paris and Oklahoma, Singin' in the Rain features a long fantasy sequence about a young man's desire to dance, featuring Cyd Charisse, who appears nowhere else in the film. In the process, we will touch on Gene Kelly's rehearsal practice, Jean Hagen's real voice, the (not-so) secret dubbing of Debbie Reynolds, and the question of what really happened when Hollywood learned to talk.
Just want to see the movie? Additional screening dates and showtimes will be announced on Tuesday, July 13.
Cinema Classics Seminars offer an entertaining and engaging way to learn more about some of the true classics of world cinema. All students receive an introductory lecture before the film and a guided discussion after the film. In addition, those who attend the seminar on site at BMFI receive a ticket to see it on the big screen, as well as popcorn and a drink.
Please note: There are two ways to attend in this seminar:
On site, at BMFI, in one of our theaters: Registration and seat selection must be done in advance, online, via the "ON SITE" button under the "Course Information" heading. There will be no walk-up registrations for this seminar.
If you wish to attend in our Remote Classroom, please do so via the "AT HOME" button under the "Remote Classroom" heading. You will be able to livestream the pre-screening lecture and participate in the post-screening discussion, but the movie is not included (nor are popcorn and a drink, we're sorry to say).
 Please email BMFI education coordinator Jill Malcolm with any questions.