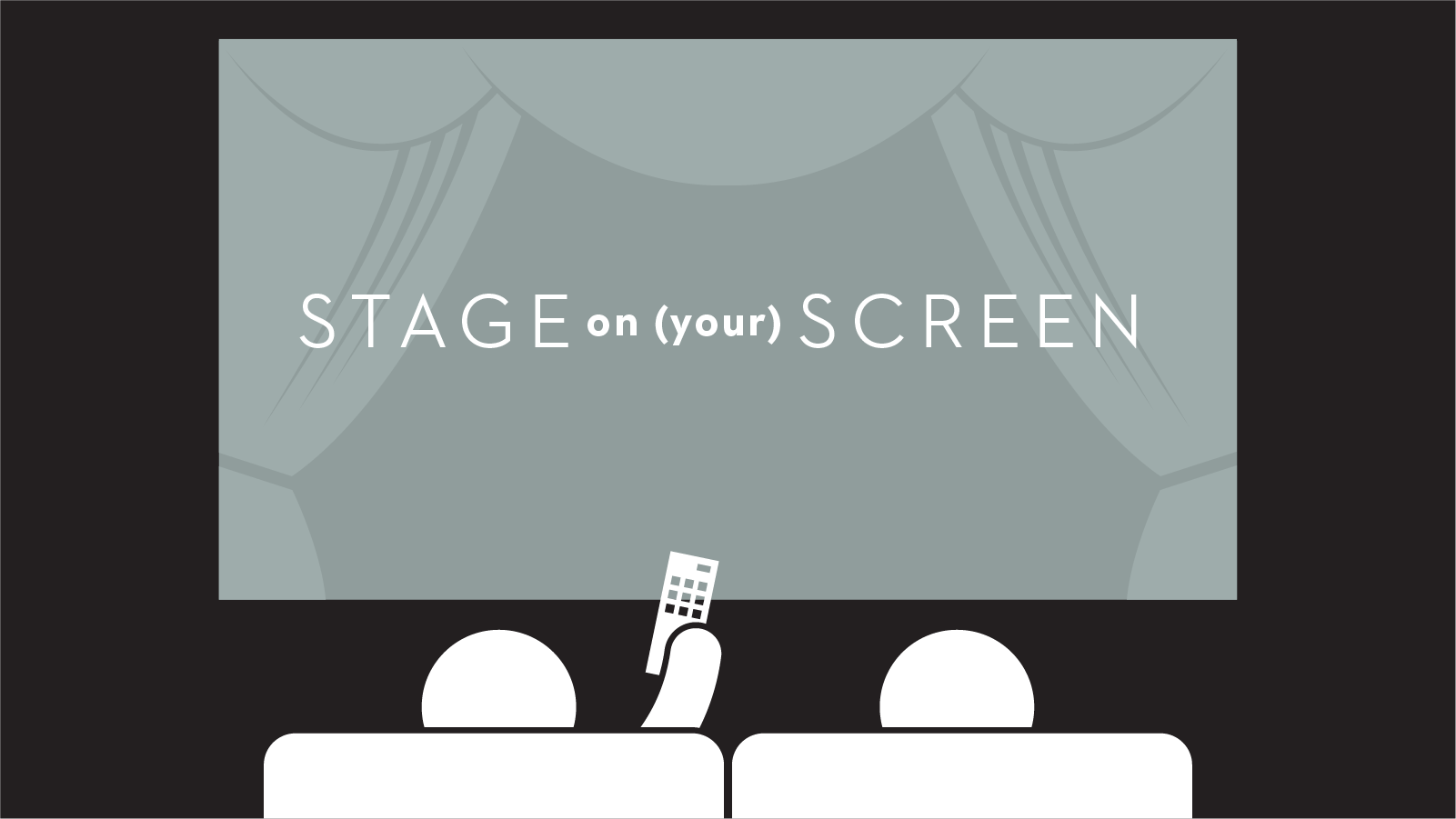 Stage on (Your) Screen
Curated Access to Live-Arts Recordings!
While auditoriums around the world are temporarily dark, arts and culture organizations are offering unprecedented access to digital theater productions, opera presentations, dance performances, and museum exhibitions.
BMFI presents a curated list of websites that offer similar programs to those we present in our Stage on Screen series, with select recommendations from BMFI's special programming team, so we can stay connected to the live arts, and each other, during our time apart.
Free Live-Arts Streaming
OperaStreaming offers a seasonal program of recorded productions from the historical opera houses of Italy's Emilia-Romagna region. Although the current season has been cut short due to the COVID-19 pandemic, you can still enjoy past streams of La Bohème, Turandot, Falstaff, Cavalleria Rusticana, and Pagliacci, available for free viewing on its YouTube channel.
The New York City-based company Ballet Hispánico has made its virtual performance Noche Unidos: A Night of Dance and Unity available to view for free on its website and YouTube channel. Premiering ten new dance pieces, the program also includes guest appearances by stars like Lin-Manuel Miranda, Gloria Estefan, Rita Moreno, and more.
During its temporary closure, the Whitney Museum of American Art is offering a wide selection of free activities and resources through its website, including weekly art history talks, online art classes for all ages, digital exhibition tours, and more.
BMFI recommends: Take an advance look at the forthcoming exhibit Vida Americana: Mexican Muralists Remake American Art, 1925-1945, or go back through the archive to view past shows focused on Andy Warhol, Yayoi Kusama, Archibald Motley, and many more.
An initiative of the Dutch National Opera & Ballet, this online platform features an ever evolving selection of filmed performances, as well as song and dance workouts, games, and behind-the-scenes footage.
Every Sunday and Thursday, the London Symphony Orchestra broadcasts a concert from their archive on YouTube, which remains available for free viewing for 48 hours. See the upcoming schedule here.
Every Friday afternoon, the San Francisco Ballet showcases a performance from their archives, free to stream for seven days on their website, YouTube channel, and Facebook page. See the upcoming schedule here.
The National Gallery in Washington, DC is home to an expansive collection of paintings, sculptures, decorative arts, photographs, prints, and drawings, spanning the history of Western Art. Though its doors are temporarily closed, you can explore the collection from home through virtual exhibition tours, artist talks, online learning opportunities, and more.
BMFI recommends: Take a virtual tour of the Degas at the Opéra exhibition, dedicated to the painter's fascination with the 19th-century Paris's thriving theatrical life.
A multimedia platform created by WNET (the parent company of New York's PBS stations), All Arts offers a wide variety of arts-related information and streaming content, encompassing dance, music, theater, and more.
BMFI recommends: Opera fans should not miss out on this collection of classic performance footage by Greek-American Soprano Maria Callas, also known as La Divina, one of opera's greatest and most expressive divas.
Presented by Philadelphia's Curtis Institute of Music, this video series presents highlights from the Curtis Institute archive, curated around themes that change weekly. New videos are added every weekday at noon, available to view for free on YouTube.
BMFI recommends: Film buffs may be most familiar with modernist composer Krzysztof Penderecki through his contributions to movie soundtracks, including The Exorcist, The Shining, and Children of Men. Get to know Penderecki's work better with this 2019 performance of Sextet, introduced by composer and Curtis Fellow Nick DiBerardino.
Based in Washington, DC, the John F. Kennedy Center for the Performing Arts hosts a vast online collection of clips and full performances via its video library and Digital Stage initiative.
BMFI recommends: If you're working on your moves—or just looking for a fun way to move—while sheltering-in-place, dance along with the Joy of Motion series. Showcasing a wide array of styles, from Latin and Ballroom to Afro-Jazz to belly dance, each installment features an expert-led lesson for beginners.
While Philadelphia's Barnes Foundation is closed, you can still explore their galleries online and check out an array of digital content, from performances and artist conversations streamed live on Instagram to the daily Barnes Takeout video series, focusing on select pieces from the collection.
BMFI recommends: Gund Family Chief Curator Nancy Ireson joined us in February 2019 at our screening of The Mystery of Picasso. In this installment of the Barnes Takeout, Ireson offers a detailed introduction to Pablo Picasso's 1906 painting The Peasants.
A top-tier venue for dance in the UK, Sadler's Wells Theatre is offering a variety of online workshops (for families with young children and seniors alike), as well as a rotating slate of full-length performances via Facebook and YouTube. View the upcoming schedule on their website.
We've often screened filmed Shakespeare productions from Canada's Stratford Festival. Now you can stream a selection of complete productions (along with bonus behind-the-scenes material) for free on the Festival's Youtube channel. See the upcoming schedule here.
The University of Pennsylvania Museum of Archaeology and Anthropology is home to countless artifacts, structures, and stories, connecting the civilizations of the past to the world we live in today. Their website offers numerous ways to explore the museum from home, from brief digital tours to live-streamed (and archived) lectures. Our favorite feature is the Digital Daily Dig, a series of three-minute video explorations highlighting various artifacts from the Museum's collection.
One of New York's premiere spaces for the performing arts, the Lincoln Center's website features a robust schedule of digital programs, including live concerts, digital workshops, and highlights from its performance archive (including opera, dance, and music).
BMFI recommends: Tune in at 5:00 pm on Wednesdays for Wednesdays with Wendy, a ballet-inspired movement class taught by New York City Ballet Associate Artistic Director Wendy Whelan on Instagram Live. The classes are suitable for people of all ages and levels of training.
Opera Philadelphia is presenting its first ever digital opera festival, featuring four premiere operas and one classic, streaming throughout May on its YouTube channel.
BMFI recommends: Don't miss We Shall Not Be Moved, streaming on YouTube through August 31 as part of Opera Philadelphia's Digital Festival O. The opera follows five Philadelphia teenagers squatting in the condemned West Philly townhouse that was once the headquarters of the MOVE organization, notoriously bombed by city police during a 1985 standoff. Written by composer Daniel Bernard Roumain and librettist Marc Bamuthi Joseph, this urgent work combines spoken word, contemporary movement, classical, R&B, and jazz singing, and more.
This local orchestra's YouTube channel hosts a number of well-filmed performance recordings, and visit their website's podcast section to hear conversations with Music Director Don Luizzi and other orchestra members.
BMFI recommends: As cinephiles, we were delighted to discover the MLSO's May 2019 performance of the tense, dramatic "Symphonic Suite from On The Waterfront," composed by Leonard Bernstein. See it here.
This free web series from New York's Baryshnikov Arts Center presents a new video every Thursday evening and available to view for one week, drawing from its archive of music and dance from around the globe.
Just north of Wilmington, DE, the Winterthur Museum boasts a vast collection of decorative arts objects, as well as a magnificent 60-acre garden. While the museum is temporarily closed, you can pay a vicarious visit through their Facebook page and YouTube channel, which feature numerous virtual room tours and garden strolls.
BMFI recommends: If you're feeling cooped up, join Garden Curator Carol Long on a calming and informative virtual tour of the flora and foliage in Winterthur's Spring Garden.
National Theatre Live is responsible for some BMFI's most popular theater offerings. During the pandemic, they're making select productions available for free viewing on their YouTube channel, programmed on a rotating basis. Tune in on the last Monday of each month for virtual quiz shows, featuring special celebrity guests. (When we say special, we mean it! Past participants have included Dame Helen Mirren and Sir Ian McKellen.)
Founded in 1798, this Amsterdam institution is among the world's most renowned museums, featuring works by Rembrandt, Vermeer, Van Gogh, and many more. Its website offers a high quality virtual tour experience, allowing visitors to view selected works in high-res, accompanied by written materials and audio guides.
Having concluded its run of Andrew Lloyd Webber broadcasts, this YouTube channel has moved on to broadcasting productions of other beloved Broadway musicals, with a new production posted every Friday at 2:00 pm and available for 48 hours.
Last year would have marked Merce Cunningham's 100th birthday. Dive into the seminal dancer/choreographer's oeuvre with an abundance of performance footage on the Trust's Dance Capsules page, Vimeo site, and YouTube channel.
Tune in to the famed venue's website, Facebook, and Instagram page for live-streamed performances and conversations featuring some of the world's finest musical artists. Visit the website for a schedule of upcoming broadcasts.
Each week, the Alvin Ailey American Dance Theater is making a full-length performance available for viewing for a limited window. Check the website for announcements about upcoming offerings, as well real-time conversations with Ailey dancers on Instagram Live.
The Met Opera continues its nightly series of archival performances, with a new stream added every night at 7:30 pm and available for 23 hours. See the upcoming schedule here.
92nd Street Y has an expansive archive of filmed concerts, dance performances, lectures, and other cultural events, available for free streaming. In the coming weeks, they will also be livestreaming some of their scheduled events
BMFI recommends: Misty Copeland tells the inspiring story of her ballet journey in this conversation with Gayle King and Nelson George. After that, just try to resist shaking a leg to this performance by New Orleans greats Rebirth Brass Band.
The Bavarian State Opera, housed in the National Theatre Munich, will be providing free livestreams of ballets, operas, and concerts from their website, some of which will be available for an additional 30 days via video-on-demand
BMFI recommends: On select Monday afternoons (EST), tune into the Monday Concerts series, featuring solo instrumentalists, chamber music and dance performances.
CMS of Lincoln Center offers free livestreams, weekly curated playlists and daily releases of archival video and audio. Stream concerts, lectures, master classes, and Meet the Music programs
BMFI recommends: This year marks the 250th anniversary of Beethoven's birth. Celebrate with this series of lectures and performances, discussing all of Beethoven's String Quartets.
As Broadway is temporarily on hiatus, watch stage actors give live performances from the comfort and safety of their homes. The performances are free, with an option to donate directly to Broadway artists.
BMFI recommends: Need your showtunes fix? Carolee Carmello belts out "Before the Parade Passes By" from Hello Dolly, made famous on film by Barbara Streisand!
Virtually tour over 1,200 of the world's leading museums and archives with Google Arts & Culture
BMFI recommends: Explore some of the world's finest film archives and exhibits via these digital tours!

Silent Films: Second Life from the National Film Archive in Warsaw

RE.CREATE with Tate Britain: Film
Apple takes us on a 5-hour plus journey through St. Petersberg's Hermitage Museum, captured in a single take on an iPhone.
Select concerts and performances from the long-running PBS series are available in their entirety for free for a limited time, including the The Cleveland Orchestra Centennial Celebration. Select concerts are available in their entirety for free for a limited time. Full access is available through the PBS Passport, included with a WHYY Membership.
BMFI recommends: Starring Sir Patrick Stewart and Kate Fleetwood, Rupert Goold's 2007 production of Macbeth transports Shakespeare's saga of ambition, treachery, and madness to an unnamed 20th-century authoritarian state. The acclaimed show is available to view for free online as part of PBS's Great Performances series.
Tiny Desk Concerts is a free video series of live concerts hosted by NPR Music at the desk of All Songs Considered host Bob Boilen.
With their #OurHouseToYourHouse initiative, the London-based company is offering a host of content on its YouTube and Facebook pages, including full-length operas and ballets, musical masterclasses, and more. 
The historic Shakesperean company will be making select productions available for free viewing on its YouTube channel. Check their website to see the upcoming schedule!
Presented by the Fisher Center for Performing Arts at Bard College, this free "virtual stage" adds new content every Wednesday, including music, theater, dance, opera, and more.