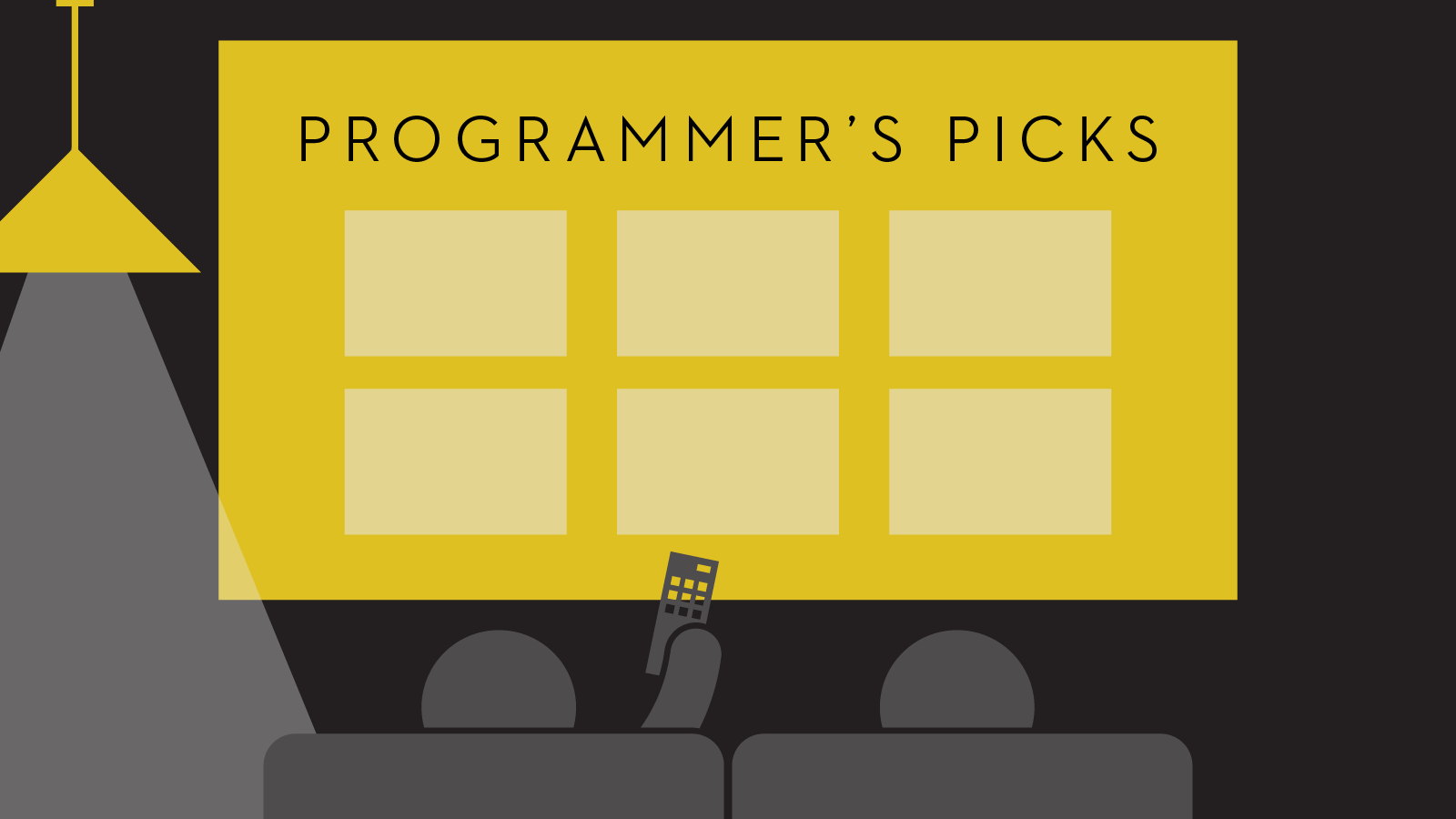 Streaming Recommendations:
Kanopy
Kanopy is a streaming service with an impressive selection of classics, contemporary films, documentaries, and more. Access is free with a library card. However, users are limited to four films per month. We've rounded up a few notable highlights from their collection for various moods and tastes. 
If you're in the mood for something fast-paced and funny, try… 

His Girl Friday
1940 · d. Howard Hawks
Trailer
Ace reporter Hildy Johnson (Rosalind Russell) plans to give up the newsroom and settle into a marriage to a dull insurance agent. But her charismatic editor/ex-husband (Cary Grant) is determined to lure her back into the biz—and into his life—with a scoop about a death-row inmate's possible innocence. The intrigue is entertaining, but the real treat is Grant and Russell's blisteringly fast repartee, which must hold some cinema record for zingers-per-minute.  

If you're in the mood for Americana, try… 
 
The Southerner 
1945 · d. Jean Renoir
Trailer
 
Share-cropper Sam Tucker makes good on his uncle's dying wish—"work for yourself; grow your own crops"—and moves his family out to a vacant plot to start a farm. This saga follows the Tuckers through four seasons of hardscrabble homesteading, facing the challenges of hunger, flood, hostile neighbors, and an overgrown catfish named Lead Pencil. Advertised as "a story of America," the film was ironically directed by one of the quintessential French directors, Jean Renoir, during his period of wartime exile in America. (William Faulkner helped with the script.) Yet, The Southerner earnestly embraces the ideals of the American dream—that with honesty, hard work, and perseverance, one can build community and carve out a place in the world.
If you're in the mood for something hip and stylish, try… 
 
Touchez Pas Au Grisbi 
1954 · d. Jacques Becker
Trailer
 
A suave, aging thief named Max the Liar (Jean Gabin) plans one last heist before he retires. Would you believe it doesn't go as expected? Dripping with style and detached cool, Touchez Pas au Grisbi (which means Hands Off the Loot) is a proper gangster movie, featuring twists, double-crosses, and moral dilemmas, but it's much more—a Paris film, a hang-out film, a middle-age film. Jeanne Moreau and Lino Ventura both give great early performances, but Gabin is the star of the show, playing Max as an elegant, romantic, but world-weary man of habit, whose code of underworld loyalty is matched by a dedication to dignity and decorum.
If you're in the mood to travel, try… 
 
Summertime 
1955 · d. David Lean
Trailer
 
Summertime isn't the best known work of its director, David Lean (Lawrence of Arabia, Dr. Zhivago), or its star, Katharine Hepburn, but it's a tender, mature romance that features one of the actress's most poignant performances. Here, she plays a middle-aged secretary on a long-awaited trip to Venice, where she half-dreads and half-hopes for romance. Indeed, she strikes up a bond with a handsome antiques dealer (Rossano Brazzi), who takes her on a lovely walk along the canal, but…well, things get complicated. The city itself is nearly a character in the film; there's a real sense of wonder when a newly-arrived Hepburn first follows a porter down a narrow Venetian street, and this feeling returns many times throughout the film, particularly during a wonderful fireworks scene that rivals that of To Catch a Thief. 
If you're in the mood for something inventive, try… 
 
Sidewalk Stories 
1989 · d. Charles Lane
Trailer
 
Mime-artist Charles Lane adapts Charlie Chaplin's The Kid to 1980s New York City in this nearly dialogue-free tale of a street artist who finds himself the caretaker of an abandoned child. Searching for the child's mother, the odd pair travels through the high quarters and low corners of society, culminating in a horse-drawn carriage chase through the streets of Greenwich village. Preceding the Oscar-winning modern silent film The Artist by two decades, Sidewalk Stories balances comedy and cinematic invention, sketching an observant picture of urban life.
If you're in the mood for a showbiz comedy, try… 
 
Living in Oblivion 
1996 · d. Tom DiCillo
Trailer
 
An actress with fraying nerves spars with the egomaniacal leading man. The crew gets sick from the catering table's spoiled milk. The smoke machine catches on fire. Everything that can go wrong on set does in this hilarious, low-budget indie satire of low-budget indie filmmaking, which features a host of great character actors, including Steve Buscemi, Catherine Keener, and Peter Dinklage. 

If you're in the mood for something quirky and big-hearted, try…. 
 
Boy 
2010 · d. Taika Waititi
Trailer
 
In the mid-'80s, 11-year-old Boy lives with his brother, Rocky (who believes he has superpowers) in a Maori community on the New Zealand coast. Boy has built up an elaborate mythology around his absent father—that he's an elite diver, a war hero, and can do all the moves in the Thriller video. But when he unexpectedly returns home, Boy and Rocky must come to terms with the reality of their dad. Incorporating hand-drawn animations and imaginative fantasy sequences, Director Taika Waititi's comic coming-of-age story showcases the warm, off-beat style that he'd bring to his Oscar-nominated Jojo Rabbit.
If you're in the mood to explore an old favorite, try… 
 
Fiddler: A Miracle of Miracles 
2019 · d. Max Lewkowicz
Trailer
 
Given its hyper-specific setting—a traditional Jewish community in a turn-of-the-century Russian shtetl–you'd think Fiddler on the Roof would have limited appeal. Yet, the musical has resonated across cultures and generations with its themes of family, heritage, race, gender roles, and more. Featuring Fiddler enthusiasts like Stephen Sondheim, Lin-Manuel Miranda, and Fran Lebowitz, this documentary traces the show's legacy, from its Broadway origins to its iconic 1971 film adaptation to its recent Yiddish language stage revival.