Women Artists on Women Artists
4 Wednesdays, May 10 to May 31, 6:30 pm to 9:30 pm  
Instructor: Jennifer Fleeger, Ph.D., Media and Communication Studies, Ursinus College

This course examines four women directors who make movies about women artists—dancers, singers, filmmakers, painters—each of whom asks similar questions. What is the relationship between cinema and the other arts? In what ways have women directors challenged conventional ideas about female representation? How have our expectations about women artists—in front of and behind the camera—changed over time?
Made by Dorothy Arzner (one of the few successful female directors during the Classical Hollywood era) and starring Maureen O'Hara and Lucille Ball, Dance, Girl, Dance (1940) contrasts ballet and burlesque dance forms, yet presents a solidarity among women that would be unexpected from any other director. As we follow a superficial pop star awaiting the results of a medical test in Cléo from 5 to 7 (1962), Agnès Varda's camera is constantly drawn to the mirror even as her soundscape is full of music, forcing us to confront the role of the image in listening to a woman's voice. Cheryl Dunye's Philly-set historical fantasy, The Watermelon Woman (1996), follows a young lesbian documentarian researching the career of an uncredited Black performer in early Hollywood, finding a role model for her own future. Finally, Céline Sciamma's Portrait of a Lady on Fire (2019) connects painting and desire in the 18th century, using the camera to destabilize the division between observer and subject. All of these films will offer an opportunity for discussion of the important role women artists have played in their own representation.
Course Information
$100 for members, $140 for non-members
Schedule
Wednesday, May 10 · 6:30 pm
Wednesday, May 17 · 6:30 pm
Wednesday, May 24 · 6:30 pm
Wednesday, May 31 · 6:30 pm
Support
Make your donation today!
Projections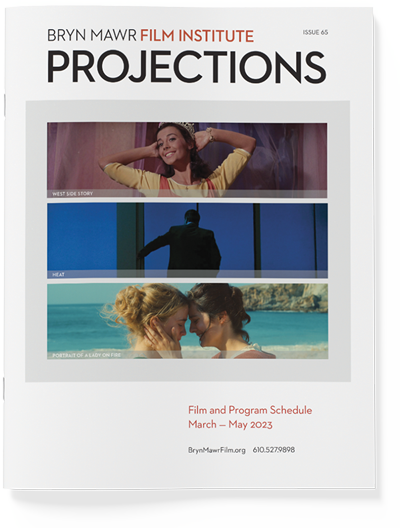 PROJECTIONS 65
March – May 2023
Announcements