About Bryn Mawr Film Institute
Bryn Mawr Film Institute (BMFI) is a nonprofit movie theater and film education center outside of Philadelphia in Bryn Mawr, PA. Nearly 200,000 patrons each year (9,000 of whom are members) enjoy an eclectic mix of independent, international, documentary, alternative, classic, and new films on our four screens, 365 days a year. Through movie screenings, special events, guest speakers, film courses, and interactive programs, BMFI creates a film community. While fully equipped with 21st century digital technology for new releases, BMFI takes every opportunity to project classic, rare, and archival prints on 35mm film. Inside the fully restored, historic 1926 Seville Theatre, classic art house style meets state-of-the-art projection, sound, and seating, creating a boutique movie-going experience, the way films were meant to be seen.
Mission
Bryn Mawr Film Institute (BMFI) is a nonprofit, member-supported motion picture theater and film education center located in Bryn Mawr, Pennsylvania, in the western suburbs of Philadelphia. BMFI is dedicated to promoting shared experiences that entertain, engage, and educate audiences through a diverse range of independent-minded films, a full curriculum of courses, and an extensive program of special events. BMFI builds community through film culture, while maintaining strong connections to its historic venue's cinematic past.
More Information
In This Section
Projections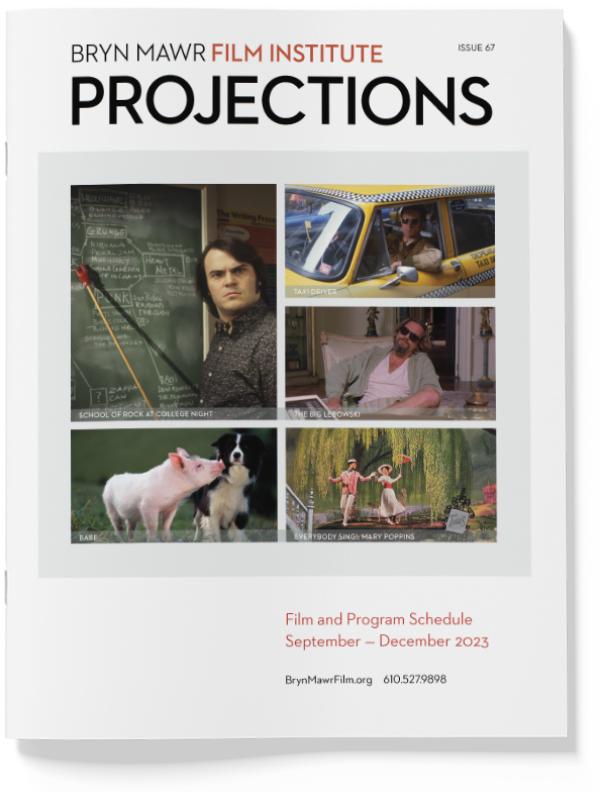 PROJECTIONS 67
September – December 2023
Announcements