Tickets & Policies
Tickets for all scheduled films can be purchased from this website or at the Box Office. The Box Office is open 30 minutes before the first show of the day, and closes after the last show of the day begins. Patrons are encouraged to purchase tickets online, in advance.
Ticket Prices:
(unless otherwise noted)
| | |
| --- | --- |
| General Admission | $13.50 |
| BMFI Members | $8.00 |
| Seniors (65+) | $11.00 |
| Children 12 and under | $9.00 |
| Students with valid ID | $11.00 |
BMFI Family Matinees

Adults: $6.00
Kids: $5.00

Stage on Screen

General Admission: $20.00
BMFI Members: $18.00
Student with ID: $11.00

Special Events

Ticket prices can be found on the specific event's web page.

Group Ticket Sales

For group ticket sales of 20 or more tickets, please contact the Box Office at 610.527.9898.
How-to at BMFI
Learn how to create an account in this BMFI how-to video.
ADMISSION POLICIES
Review BMFI's policies and frequently asked questions for more information, or contact us with your questions.
Children Under 6

Children under age six are not admitted to regular screenings. Children of all ages are welcome at BMFI Family Matinees and Going Gaga matinees. Because Going Gaga features new films which are appropriate for mature audiences, this program is recommended for moviegoers with children younger than 18 months.

Late Arrivals

As part of our efforts to ensure the most enjoyable moviegoing experience for our audiences, BMFI does not allow admittance to any screening more than 15 minutes after its posted showtime.

Prohibited Items

The following items are not permitted at Bryn Mawr Film Institute:

Outside food and beverages
Weapons of any kind
Pets that are not service animals
Smoking or vaping, including all forms of e-cigarettes

Any backpacks, briefcases, large shopping bags, and other bulky personal items are not permitted inside the theater. These items may be checked at the Box Office and will be returned as you exit the building.

Use of Membership Cards

Members can access their benefits online by logging into their accounts on BrynMawrFilm.org, or by presenting their membership card at the Box Office. Membership cards must be presented in order to receive membership benefits at the Box Office, no exceptions. If you have questions about setting up your online account or buying tickets online, you can watch our online ticketing tutorial, contact the Box Office or reach us by telephone at 610.527.4008 x111.

A membership card can be used only for the benefit of the named holder. The card cannot be loaned to a nonmember. A member cannot buy a discounted ticket for a nonmember friend.

Couple and Family Memberships
For memberships that cover more than one person, only one person need show their card in order to obtain the discount for all persons covered by the membership.

Advance Ticket Sales to Members
Bryn Mawr Film Institute members may purchase tickets to our screenings as soon as the schedule is announced on BrynMawrFilm.org. Sorry, we cannot sell tickets by phone. If some of your advance tickets are for nonmembers, you must pay the general admission price for those tickets. Members at the Mogul level and above may access their free admission benefits for main attraction films online by logging into their accounts on BrynMawrFilm.org.

Tickets you purchase online are saved in your BMFI online account. You may present your ticket to the Box Office by using your smart phone, or by printing a ticket at home.

Refunds for tickets to current main attraction films
If you've purchased your ticket for a current main attraction film and then find that you cannot attend the screening, you can receive a refund by contacting the Box Office before the film begins or by telephone at 610.527.4008 x111.

Refunds for tickets to all other special event programming
There are generally no refunds on tickets for special event programming. However, if there is already an encore presentation of the event currently scheduled, you may exchange your ticket at the Box Office for a ticket for the encore presentation of that same event only, provided the event is not sold-out, so long as you make the exchange in person and before the date and time of the original event you cannot attend.

Free Pass/Free Admission

Mogul, Angel, Director, Film Maker, and Cineaste members can access their free admission benefits online by logging into their account on BrynMawrFilm.org.
In This Section
Projections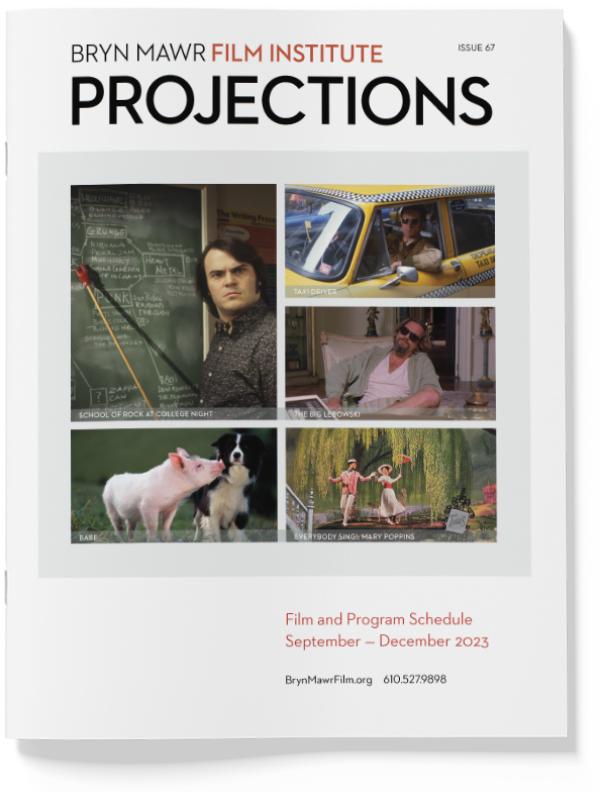 PROJECTIONS 67
September – December 2023
Announcements