Education
In addition to being a wonderful entertainment, the cinema is an art form, a mode of communication, and a historical document offering insights about the culture and era that produced it. BMFI's film curriculum includes over forty different Film Studies classes each year, a third-grade visual literacy and arts education program, See Hear Feel Film, and the annual Summer Filmmaking Workshop for high school students. In addition, BMFI educates over 5,000 students of all ages each year through campus and classroom visits, during field trips to BMFI, and at a range of institutions on the Main Line and in the Greater Philadelphia region. Whether you are young or old, novice or aficionado, moviegoer or filmmaker, BMFI offers numerous ways for you to learn about—and through—the cinema.
Current Film Studies Offerings

Film Studies Online

See · Hear · Feel · Film

Summer Filmmaking Workshop

Course Archive

BMFI Faculty

The George Rehrauer Film Book Collection

Film Links
In This Section
Support
Make your donation today!
Projections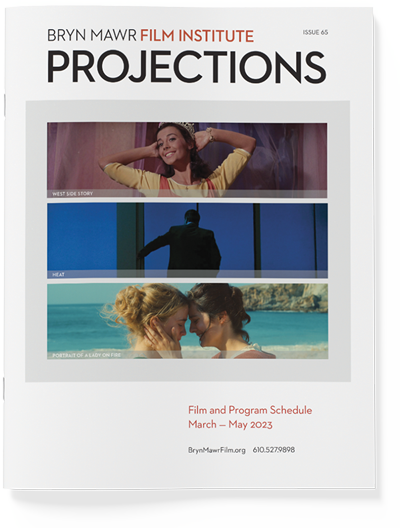 PROJECTIONS 65
March – May 2023
Announcements