See · Hear · Feel · Film
Part of the Barrie M. Ford Children's Visual Literacy Program
See · Hear · Feel · Film (SHFF) is an innovative third-grade arts education program that promotes visual literacy, and teaches kids to write with clarity and confidence using activities based on short films from around the world.
Ours is an increasingly visual society, and we all receive an ever-growing amount of our information from moving images on television, computers, and hand-held devices. By teaching students to understand film and visual media as constructed narratives, young people learn active-viewing and critical-thinking skills, as well as storytelling techniques. Through learning about film and media in this way, they become informed and impassioned creators of their own unique stories.
SHFF is available only through partnership with local elementary schools, but does not require any additional work for teachers. The curriculum is designed to meet Pennsylvania (PA) Core Standards for English Language Arts, meaning that teachers will cover required material in a new, even more engaging way. Additionally, Bryn Mawr Film Institute provides everything teachers need to implement the program, including lesson plans, activity instructions, templates for handouts, a teaching script, and, of course, the movies.
Learn how SHFF aligns with the PA Core Standards for English Language Arts (Grade 3):
How it Works

SHFF consists of four units that feature films, writing exercises, and collaborative activities that encourage students to be creative and express themselves with confidence.
Participating teachers learn how to incorporate the curriculum into their classroom lessons at a comprehensive, one-day training session led by BMFI faculty.
Unit one includes a field trip to Bryn Mawr Film Institute to experience the program's first unit on the big screen. The lesson uses two short animated films to teach students about cinematic storytelling and to illustrate that movies can spring from the imaginations of people of all ages.
Teachers cover units two through four in their own classroom and at their own pace. Students experience a multitude of different activities and exercises to learn about many different aspects of film and storytelling. They learn about how to consider the way characters think and feel, how sound can be used as a tool to build a narrative, and the way words can be used to create different worlds.
The program is modular, making it easily adaptable for different schedules and curricula.

Educational Goals

Inspire students to become more active, thoughtful viewers of visual media
Teach them how to write with confidence, clarity, and joy
Improve their creative expression and storytelling skills
Enhance important critical thinking skills while improving their writing and communication
Prepare students to analyze the range of visual media they encounter
Fulfill PA Core Standards for English Language Arts (Grade 3) in a more dynamic way

SHFF Helps Students

Develop critical-viewing skills and imagination;
Experience a variety of films from around the world;
Examine how filmmakers tell stories;
Engage their senses to focus on their inner and outer worlds; and
Inspire creative expression and storytelling skills using the tools of a filmmaker.

About SHFF

The SHFF curriculum was designed by Anne Marie Santoro of the Jacob Burns Film Center in Pleasantville, New York in 2001. Bryn Mawr Film Institute proudly became the first film center to license this program in 2005, and remains its exclusive source in the Greater Philadelphia region, serving schools throughout the Lower Merion School District, Norristown Area School District, and William Penn District, among others.

 

 

Cost

This program is completely FREE to all area public schools thanks to funding from the Commonwealth's Educational Improvement Tax Credit program. Even the cost of school buses for the unit one visit will be reimbursed. BMFI Community Partner schools may attend this program free of charge. We invite area private and independent schools to participate at a cost of $500 per class.

Participate

For more information about SHFF, contact Jill Malcolm, Education Coordinator at BMFI, by email or by phone at 610.527.4008 x108.

We are seeking volunteers to assist BMFI staff members with unit one visits for SHFF. These visits take place throughout the fall school semester on weekday mornings. Volunteers will be trained alongside area teachers to lead writing activities with the students during their fall semester visit to BMFI for the first unit of the program. All volunteers must complete a Pennsylvania Criminal History Record Check.

For more information on volunteering to help with SHFF at BMFI, please email Education@BrynMawrFilm.org, or use our SHFF Volunteer contact form.
In This Section
Projections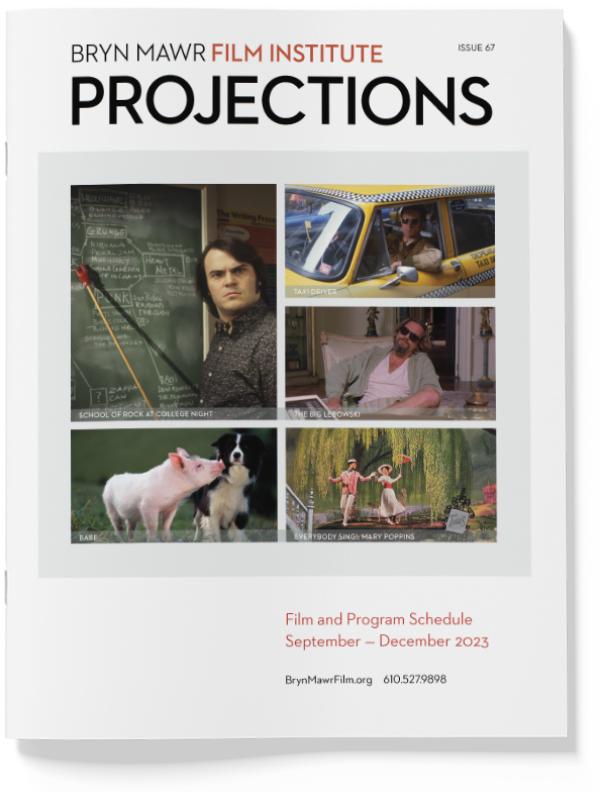 PROJECTIONS 67
September – December 2023
Announcements