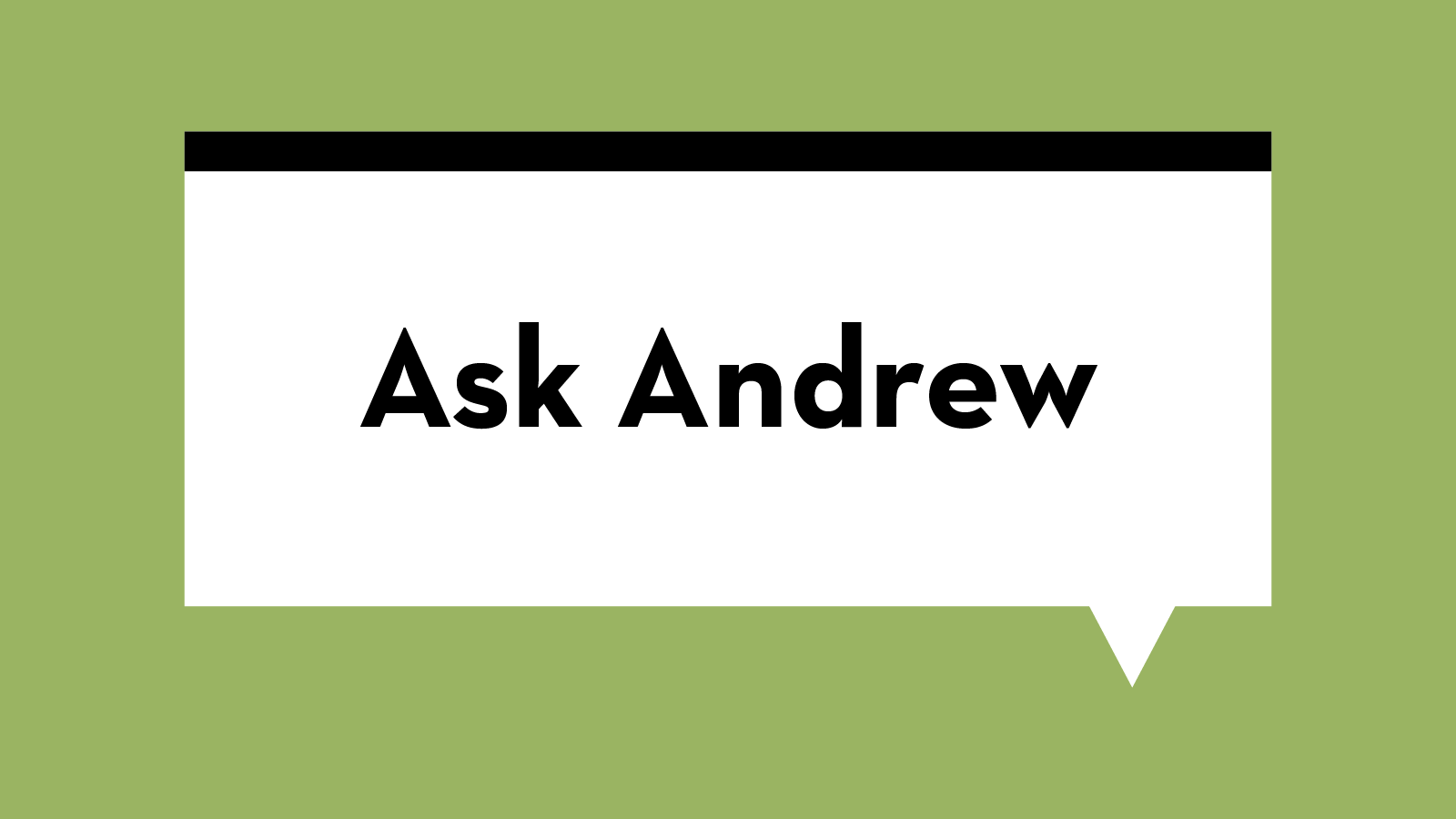 Ask Andrew
Do you have a question about the movies, maybe something you've often wondered about but never had a chance to ask anyone? Well, now's your chance. Ask Andrew J. Douglas, Ph.D., BMFI's Senior Director of Education and Administration, and he will post a video on Tuesday that answers the most interesting questions (that he knows the answers to). Submit your question, then stay tuned for updates.
Ask Andrew Archive:
April 13, 2021: Depictions of Jewish People in American Cinema
April 6, 2021: Where did Terrence Malick go?
March 30, 2021: A Netflix Multiplex?
March 23, 2021: Oscar Recency Bias?
March 16, 2021: An Oscar Oddity
March 9, 2021: Defining "the Paramount Decree"
March 2, 2021: Thoughts on Mank
February 23, 2021: Last Tango in Paris and Its Legacy
February 16, 2021: Woodrow Wilson and The Birth of a Nation
February 9, 2021: The Influence of Breathless (1960)
February 2, 2021: Compelling Sci-Fi Recommendations
January 26, 2021: Defining "Continuity"
January 19, 2021: Kirk Douglas and the Hollywood Blacklist
January 12, 2021: The Manchurian Candidate (1962) and Its Legacy
January 5, 2021: Changes in Movie Credits
December 29, 2020: Defining "Pre-Code"
December 22, 2020: Christmas Thrillers
December 15, 2020: Leading Men, Then and Now
December 1, 2020: Production Designer vs. Art Director vs. Set Decorator
November 17, 2020: Hitchcock and Oscar
November 10, 2020: Defining "Neo-realism"
November 3, 2020: Chinese and Indian Movies in American Theaters
October 27, 2020: Evaluating Blockbusters
October 20, 2020: The Fall and Rise of Movie Musicals
October 13, 2020: Defining "Montage"
October 6, 2020: Method Acting
September 29, 2020: The Power of Movie Franchises
September 22, 2020: Why Some Movies Enter the Public Domain
September 15, 2020: The Academy's Inclusion Promise
September 8, 2020: Why Some Movies Seem Dated
September 1, 2020: The Creation and Impact of Movie Ratings
August 25, 2020: Evolving Opinions on Movies
August 18, 2020: How to Introduce Someone to Older Movies
August 11, 2020: Golden Globes vs. Academy Awards
August 4, 2020: The Rise and Fall of Romantic Comedies
July 21, 2020: Citizen Kane vs. Vertigo
July 14, 2020: Origins of the Blockbuster
July 7, 2020: Movies Shot on iPhones
June 30, 2020: The Pandemic's Impact on the Oscars
June 23, 2020: Choosing Black & White or Color
June 16, 2020: Returning to the Cinema
June 9, 2020: Shooting Digitally vs. Filming on Celluloid
May 26, 2020: Golden Age Musicals; Neo Noir
May 19, 2020: Dietrich Talks; Genre vs. Cycle vs. Style
May 12, 2020: The Hero's Journey; Westerns in the 1960s & '70s
May 5, 2020: Test Screenings; Movie Music
April 28, 2020: Film School & Filmmaking Talent; The Graduate; To Kill a Mockingbird; Elaine May
April 21, 2020: Tarantino & Genre; Rear Window & Technicolor; Crediting Source Material
April 14, 2020: Great (?) Movies; the Studio System; Taking Horror Movies Seriously
April 7, 2020: Pandemic Production; Comedy Runtimes; Max Cady & Hannibal Lecter; Mass-Appeal Movies
March 31, 2020: Family Films; Kids Docs; Gardener Movies; Minions; Awards; Watching the Star Wars Saga
March 24, 2020: Hitchcock's Notorious; Film Companies in Opening Credits
Ask Andrew (Anything About Movies)