Monthly Film Discussions
May 20, 2021
A Message from Andrew J. Douglas, Ph.D.,
Senior Director, Education and Administration
Summer is around the corner, the days are getting brighter, and our options for learning and engaging with others are multiplying and taking us away from our computers and tablets more and more. Nobody is happier that things are opening up than we are, but it does seem to mean that our weekly Monday night film discussions are not quite as essential as they once were, even just a few short months ago.
As a result, our Film Studies Online discussions will be changing to a monthly schedule. Following the discussion of The Elephant Man (1980) on Monday, May 24, the next discussion will take place on Monday, June 14.
Here's what's changing:
Online film discussions will take place on the second Monday of each month
Film selections and introductions will be announced three weeks in advance
Here's what's staying the same:
Online film discussions will be free and held on Zoom
Classic, essential, and underseen films will be featured
Each film will have an introduction by my colleagues or me
The insightful, challenging, and sometimes humorous input from you
For those of you who will be looking for more film studies opportunities, we are developing some on-site education programs that will be offered at BMFI (and in our Remote Classroom) this summer, which we'll announce in the coming weeks.
We at BMFI are very proud of this program and the community that has sprung forth from it—a community created by you. We hope you'll help us guide it into its next phase, and we look forward to the many lively and enriching conversations to come.
Support
Make your donation today!
Projections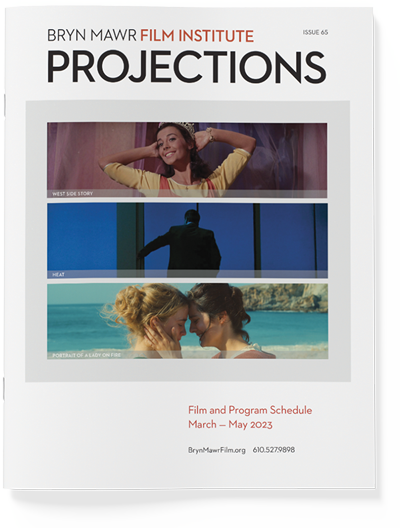 PROJECTIONS 65
March – May 2023
Announcements